Welcome to the Jackson, Tennessee Dog Fanciers Association. We are dedicated to the care and preservation of pure-bred dogs as defined by the American Kennel Club (AKC) registry. Our club is a member of the AKC. We have two AKC sanctioned all-breed dog shows yearly in March.
Will Pevahouse Scholarship Fund
June 20, 2019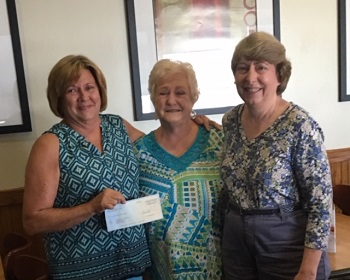 The AT&T Pioneers and JTDFA donate $1000 to the Will Pevahouse Scholarship Fund
The second annual Will Pevahouse Memorial Golf Tournament, along with a silent auction, will be held on July 11 at the Humboldt Golf & Country Club in Humboldt, TN. This is the primary fundraiser for Will's Scholarship Fund. Donations to the scholarship fund can be made on the Facebook page Will Pevahouse Scholarship Fund using the donate button at top of page. There are no fees and these funds are deposited directly into the fund. Any and all support is appreciated and will help make this event a success!
JTDFA Gives Again
June 14, 2019
JTDFA donates $500 to LANA for
upkeep of the Downtown Dog Park
AKC TV - LIVE!
It's Good Dog TV! The American Kennel Club presents a network for dog lovers everywhere. Featuring dog-related programming 24/7 and an on-demand library of hundreds of dog shows, training videos, puppy videos, and more.
Watch Now